Tirana: the happy boom
Follow our adventures by receiving our newsletter every week, sign up by clicking here and fill in your name and email.
Tirana, 18 June 2022
Arriving at 8am in the port of Dürres, we disembark a little anxious about what awaits us. As the people of Vaud say, we will be disappointed in a good way!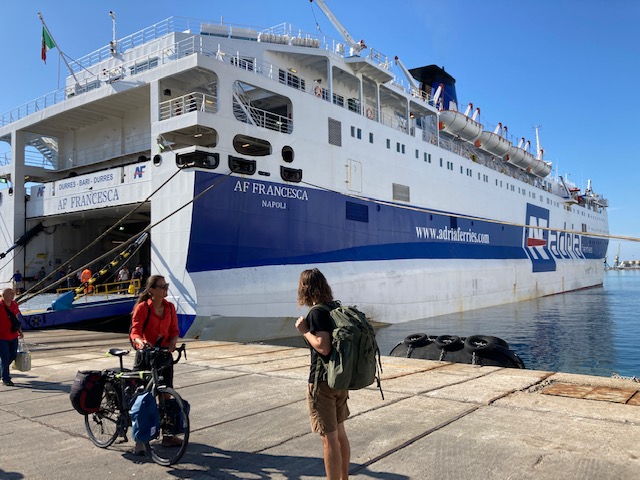 We quickly find the way out, customs crossing without any problem, hyper-clean facilities, clean streets (nothing to do with Palermo at 5am at night). Spontaneously, some English speaking Albanians kindly offer us a hand to start our new journey. We withdraw "Lek" at the "Raiffeisen-Albania" ATM, by intellectual laziness, we stay on an exchange rate of 100 Lek for 1 Swiss franc, the bank charges us a 4% commission which will rise to 5%, only Spanish banks charge commissions, we are warned.
A comfortable exit from port
The Google Map router is unusable, the bike routes don't work in this country, so we use Mapme.org and Komoot.com which work very well, to avoid the highways in particular, and the abusive climbs. We leave quietly under a blazing sun for 50 km of almost flat roads, with the traffic linked to a port that fades away as the kilometers go by. The road is the vital artery, as in Italy, everything takes place there, no matter the parking in single, double or triple file, in front of or behind the back of the Police. After 8 weeks in Italy, we are reassured by calm and attentive drivers. Certainly, some notions, such as one-way streets, are interpreted differently, but it is manageable.
The port, the car boot sales
The first 30 kilometres are dedicated to the glory of car wrecks, 90% of which are dedicated to German cars. 30 kilometres of auto scrap merchants, everything can be bought and sold apparently.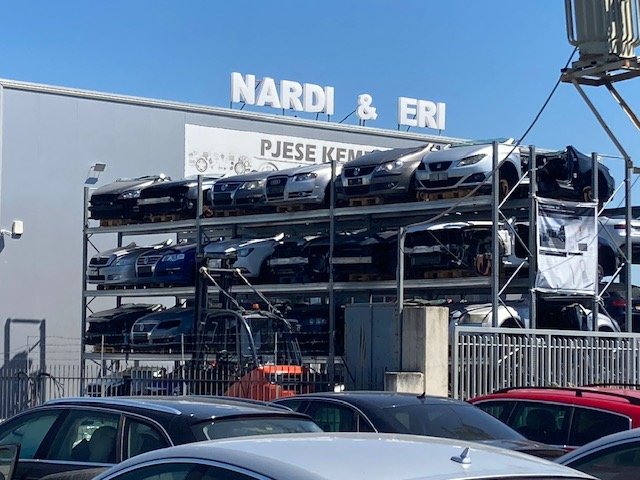 The last 20 kilometres will be the usual web of small and medium-sized businesses, commercial surfaces and real estate delusions that make the flavour of all suburbs. By inattention we will find ourselves 2 meters from the motorway entrance.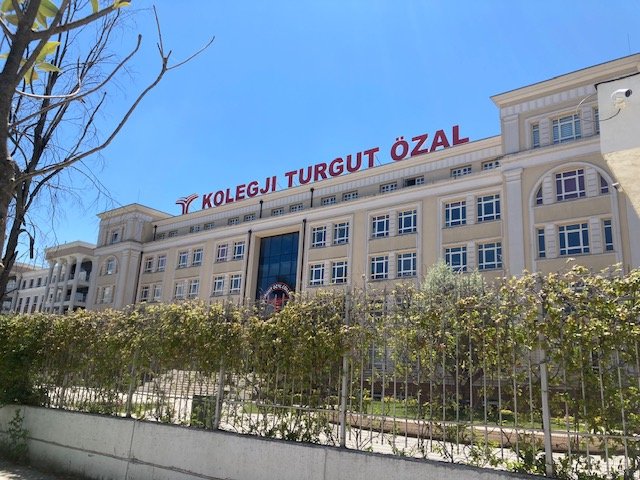 Urban planning in the making
We'll go from a road to a waterlogged gravel lane, thinking we were wrong. And no, welcome to a city whose demographics and housing complexes are growing faster than the work of city planners. It is common in Tirana, some neighbourhoods are not connected with others, or by 2 meters wide alleys. According to our guide Vangjel, head of the Albania360° agency, the situation is now better following the violent fall of communism in 1991 and the wild development of capitalism, for which public services are not really a priority.
We live in a hotel in the city center, a reflection of urbanism in the making. Our 6-story family hotel overlooks old, decrepit 2-story brick buildings (there are chickens and vegetable gardens), and is itself overlooked by 15-30 story towers. All with a maximum of GREEN trees.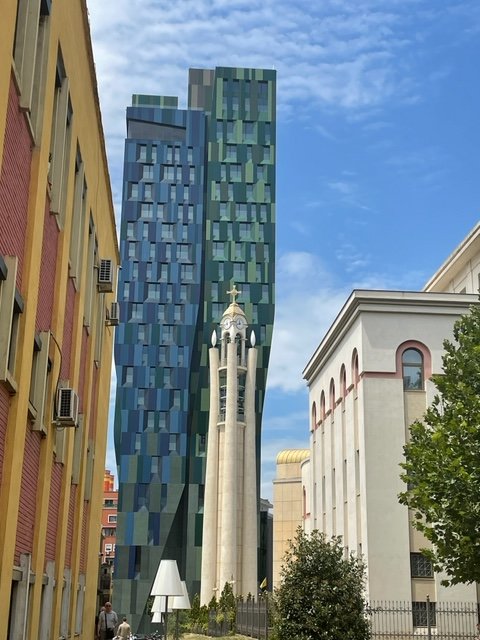 Finally some greenery in the streets!
Of course, our path continues northwards from southern Sicily, but on closer inspection, many cities, including Switzerland, could be inspired by the urban plantations we use every day to protect ourselves from the harsh sun. The port of Dürres was drowned in lime and plane trees. Tirana has almost all the species we have in Switzerland; white poplars, sycamores, lime trees, magnolia grandiflora sempervirens with sparse flowers and evergreen leaves, chestnut trees, oaks, ficus, cedars, firs and willows. An incredible variety of large trees, planted on a sandy subsoil fed by a very active water table. The parks are made up of 50% medicinal plants and other endemic plants that give a wild, natural, river delta feel, an atmosphere that allows massive modern buildings to be set in (earthquake-resistant buildings). This greenery is present everywhere in the city, on the many café terraces in the restaurants, it is a real pleasure to see green again. In the north of the city there are mountains over 1000 metres high, all of them green.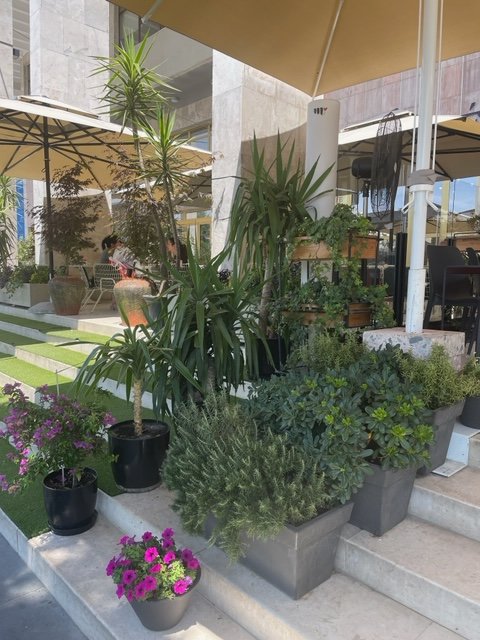 Getting around Tirana is easy because, unlike in Italy, we are no longer alone. The large boulevards are lined with cycle paths. A city in full expansion, from 12,000 inhabitants in 1900 to more than a million (33% of the country's population), Tirana presents the aspect of a young city, immense, with multiple neighbourhoods and a life of shaded bistro terraces.
8 modern towers under construction line the central Skanderbeg square, without, according to our feeling, disrupting the landscape. Bold architectures, the towers give a dynamic to the place and multiple points of view very studied, integrating here and there minarets. Yes, the East in Albania points its nose very strongly, we feel that we are at a crossroads. The Turkish school is solidly established with an impressive building by its size, architectural details, betray an Ottoman domination during the Middle Ages. We are in the Balkans, a history full of twists and turns where the Italians were very present and remain so in the language, the restoration, a certain art of living. If at sunset, the streets come alive, the terraces fill up, it is a dynamic that pleases us by its measured exuberance, but so much nicer than the Federal Palace square after 6pm in Bern!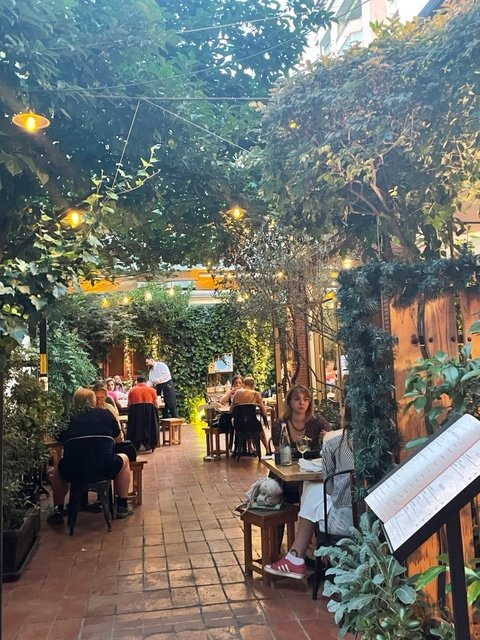 Speaking English and Italian, we have no trouble making ourselves understood, the restaurants are very welcoming, tolerance seems to be a way of life here, after 48 hours of discoveries.