Elise and Clément, globe-cyclists from Yverdon
Follow our adventures by receiving our newsletter every week, sign up by clicking here and fill in your name and email.
Elise and Clément greet us happily. They exclaim when they read "Yverdon-les-Bains Energies" on Philippe's chasuble: "Yverdonnois like us! It is at the Katara pass that we meet these two young globes-cyclists. They, like us, have just climbed nearly 2000 meters. We are happy to reach the summit and moved by this meeting of "compatriots from Yverdon"! We chatted for almost an hour, without ever getting off our bikes, but curious about each other's experiences.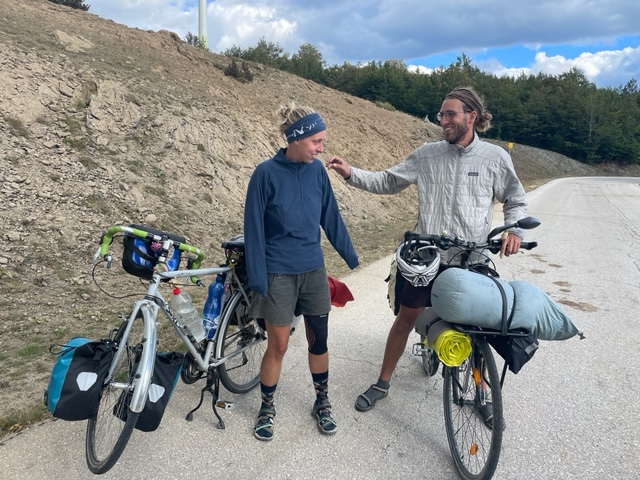 The discussion is deep, almost philosophical. For Elise and Clément, with their Bachelor's degree in hand, it was necessary to take a step back. Very involved, both in associations and professionally, in environmental and social issues, they felt the need to get away from their busy routine.
What will be the consequences of a long trip on life choices upon return? What do we learn from this trip? What do the encounters teach us? What is our role during the trip? How do we regulate a life together every day on a long journey? How is humanity faring with regard to what we observe? And so many other shared questions. We are eager to gather the impressions of the other.
They have decided not to set a return date. They want to be free. They concocted a very simple trip, avoiding any superfluous expense so that the road could be as long as possible... Maybe they will have to earn some money on the road, to make the research last.
They are 23 years old, we are 50 and more. Our views on the world complement each other from the height of our generations and our experiences.
We hope to see them again when they return or hear from them. They don't have a blog, nor Facebook or Instagram. It's also their way of being emancipated.
Before leaving us, we give each other our tips and tricks on "bike" techniques. We warn them against a sand plant that loves tires...We receive a message a few days later, the plant has met their wheels...17 holes!
Again, a small meeting of great intensity. The discussion could have taken hours. Knowing that we only have a few moments to share speeds up the pace of the discussion and allows for unique confidential detours.
Good road to Elise and Clément!