Portugal - Spain: Easy bike
Follow our adventures by receiving our newsletter every week, sign up by clicking here and fill in your name and email.
Cycling in the Iberian Peninsula is quite easy, especially in the big cities
After more than 1,000 kilometres of cycling since January 2022, we can say that cycling in Portugal and Spain is comfortable. All major cities are equipped with bicycle lanes ensuring safe entry and exit. In Spain, at the exit of the cities, the new road interchanges are ultra complex, but for example in Valencia, everything is planned for bicycles, of course, it is not the Promenade des Anglais in Nice, the track often passes through very gloomy places, abandoned from the sweepers' circuits.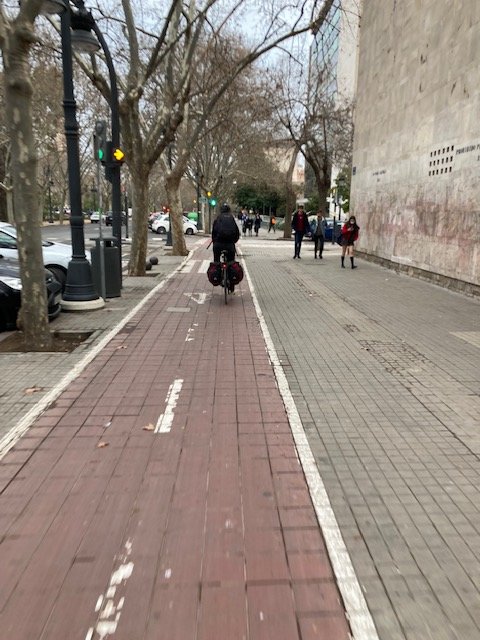 Whenever possible, we used the VIA VERDE or CORRIDOR VERDE, rehabilitation of disused railway tracks dedicated to cyclists. In Lliria, an unexpected route leads us to the orange groves for 15km on a gentle slope. On the Baix-Ebre route starting in Tortosa, running along the Ebro. On the track north of the Rio Tinto mines. In fact, these are mostly old mine evacuation routes.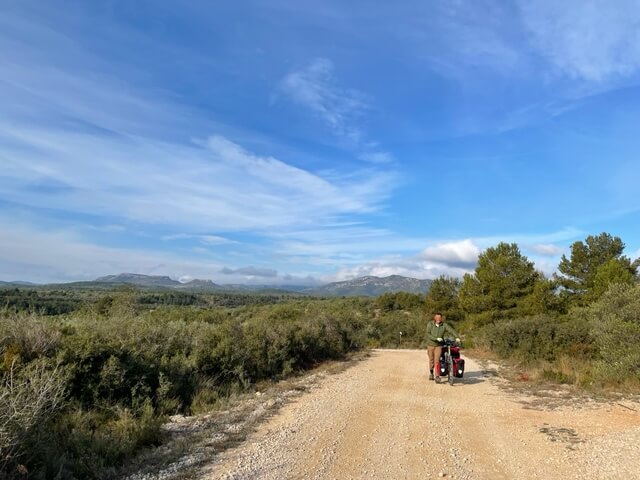 Cycling castes
No, we are not in India, but clearly the world of cycling is compartmentalised:
the pros - no contact, they are all about performance, material, equipment worthy of the Tour de France, lenticular wheels..... you can tell by the sound of the wind in their spokes.
clubs - active retirees. state of the art equipment, friendly, encouraging, our favourite category, active every day, especially in the late evening before the aperitif.
electrified" cyclists - no contact, clearly another world
the globe-trotters - 4 people met in 2 months and always exchanges, discussions
All of this is surrounded by the latest bike shops, which unfortunately are only found on the outskirts of major cities, hence the loss of a day's ride back to Valencia when we blew a tyre.
Finding your way
In the age of digital maps and 95% of the territory covered by 4G, the 25,000th.... is over and yet:
Cécile, on the advice of my brother, a great cyclist, uses Map.me with pleasure
We take stock every day, or even several times a day. Map.me seems more suited to our search for quiet routes with heavily loaded bikes. Google is not always up to date and sends us on routes that seem obvious from the air, except that in some places the roads are 4-5 m apart, a vertical wall separating them. It must be said that in Spain, bridges and roads easily change infrastructures, creating new ones, without destroying the old ones. Google also tends to send us on routes optimised for hunters, rather than for bikes..... Sometimes the roads, like in the south of Seville, are covered with several metres of rubbish............. Google Map is still great for understanding "from the sky" where we are and where we are going.